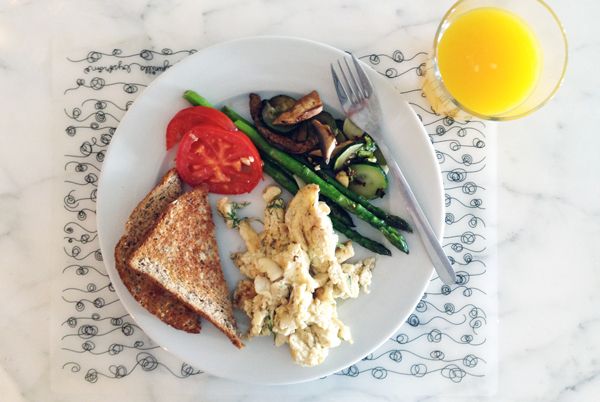 My favourite meal all week, and one of the easiest to make is Sunday brunch. I posted the first image on
instagram
a few weeks ago and got a few recipe requests so here it is! These recipes are so easy it's almost silly to call them an actual recipe, but they are super delicious!
Huevos Rancheros for 2
1 pita, lightly toasted, cut in half
eggwhites
1 green onion
kale
homemade tomato salsa
(chopped tomatoes, cilantro, s&p, green onion)
1/2 avocado, mashed
black beans
Scramble eggwhites with green onion, place in your pita and top with black beans, homemade salsa, avocado and kale. Enjoy!
Veggies and Eggs for 1
eggwhites
dill
whole wheat toast
portobello mushrooms
asparagus
tomato slices
zucchini
coconut oil
Scramble eggwhites with dill and grill veggies (with coconut oil if you have it, tastes so yummy!). I also love to sprinkle my veggies with a bit of red curry when grilling. It adds a bit of unexpected flavour and pairs really nicely with the coconut oil.
Happy Sunday brunching!
xoxo denj